I used this book again this past week. Although I included it in my blog about Spring books a year ago, I think it is worth having its own forum here. This is another perfect book for this time of year. It is the story of a little cloud that drifts away from the other clouds and plays around by changing into various cloud shapes.
Lessons I have pulled from this book for my speech therapy clients:
Articulation: Good book for working on the following sounds
/s/ Use the carrier phrase "I see..." to identify cloud shapes
"sh" shape, shark, sheep, carrier phrase "______ shape"
/kl/ cloud, clown, carrier phrase "cloud is a ________"
/l/ carrier phrase "Little cloud is a _______"
Language:
Vocabulary
Answering questions: What is it? Why did he turn into a sheep? (because he saw sheep in the field)
Sequencing: First he turned into a sheep, next he was a ....
Verbal expression: Retelling the story. This would be a good time to use blue paper and white chalk or crayons, or white paper cut outs to reconstruct the story into a take home book for practice with targets.
Narrative Development: I love to use spin off stories that follow the original structure but with the child's own ideas of cloud shapes and why the cloud chose that shape.
Sentence structure:
Pronouns: He/She
Linking Verbs: Cloud
is
a _______.
Past tense verbs: Cloud turned into a ________.
Cognitive/Perceptual Skills:
Recognizing cloud shapes. What a great task for flexible thinking! Here is a wonderful website (brucecvanpatter.com) that helps even the poorest at this task. Scroll over the cloud and a drawn outline appears to help the viewer perceive the shape. The fun thing about this is that once you see the line drawing, it is much easier to discern the shape in repeated attempts with the help. I took this idea and located cloud shapes on Google Images which I then printed. I placed two pages in clear page protectors (front and back) and used a sharpie to trace around the images onto the protector (works as a clear overlay). With younger children we first view the pics with the overlays. Then we view them again removed from the protectors/overlays to see if they can still find the images. Older children can do the same process in reverse; guessing first then seeing the overlay added.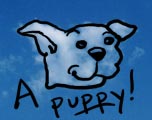 Chalk on blue paper to draw shapes
White finger paint on blue paper: Draw cloud shapes or create whole pages of white textured painting to dry and cut out into cloud shapes (Eric Carle style).
Shaving cream mixed with white glue will dry into puffy paint clouds.
Torn paper clouds
Cotton ball clouds
Snacks: Whipped cream, marshmallows, cotton candy, meringue cookies, cream cheese... think white and fluffy.